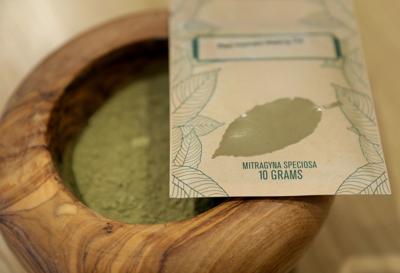 ST. CHARLES — St. Charles County Executive Steve Ehlmann cautioned Friday that allowing the regulated sale of kratom in his region was not an endorsement of the controversial product that has exploded in popularity.
"I don't want people to get the wrong impression," he said by telephone. "By not banning it is not saying it's OK. The council is not ready to ban it until we get more medical information from the FDA."
The St. Charles County Council passed a bill on Aug. 26 to allow the sale of kratom with some restrictions and requirements, such as clear labeling. On Thursday, Ehlmann allowed the bill to pass without his signature.
"This is not an endorsement," Ehlmann said. "This is not a guarantee that this is totally healthy."
Kratom is a dietary supplement used for pain relief and a natural alternative to treat opioid withdrawal, post-traumatic stress disorder, depression and other health conditions. It's grown in Southeast Asia.
While there are stores that specialize in selling kratom — as powder, in capsules, taffies and extracts — it's also available to buy online and at convenience stories that sell items that are supposed to be consumed in moderation.
Some states and communities have banned kratom, others have adopted regulations.
The American Kratom Association estimates 15 million people consume kratom in the United States. The association formed five years ago in response to an FDA import alert on kratom and threats by the regulatory agency to classify the substance as a dangerous drug.
"The only problem that a consumer needs protections against is the adulterated product," Mac Haddow, a Washington-based lobbyist for the group, told the Post-Dispatch in May.
Haddow, the lobbyist, blamed kratom deaths on "bad actors" who run the leaf through a chemical process during production to dangerously increase natural levels of 7-hydroxymitragynine in the plant, which, he agreed, can cause fatal overdoses similar to opioids.
He said that is why the association has supported passage of the Kratom Consumer Protection Act in Utah, Georgia and Arizona, which restricts adulteration of the product, requires clear labeling of ingredients and forbids anyone under 18 to buy it. A similar measure didn't make it through the Missouri Legislature this year.
But it passed in St. Charles County.
One small-business manager in St. Peters said Friday that she was pleased the bill passed, but she wouldn't speak publicly about it. She said credit card processing companies won't work with her business if she advertises kratom.