After three days of meetings with congressional staffers, supporters say they have an uphill battle to keep their preferred treatment legal.
The week of advocacy began last Tuesday with a rally outside the U.S. Capitol building and continued across three days of meetings with legislative aides. Participants took the opportunity to share their personal experiences with kratom and educate congressional staffers on issues around a federal proposal to ban the herbal supplement, a move that would criminalize a treatment that many users say they prefer over prescription drugs.
Organizers said many of the Hill staffers they met with had heard about kratom, a psychoactive herb derived from the leaves of a Southeast Asian tree related to coffee, which hadn't been the case during previous appointments. But they admitted it would be a constant battle to counter "misinformation" from the U.S. Food and Drug Administration, which has sought to portray kratom as a deadly opioid, even as many doctors and scientists say that likely isn't true.
"Our goal is to educate in an effort to be proactive rather than reactive," a spokesperson for Kratom Community Grassroots, a nonprofit advocacy organization, told HuffPost. "Many legislators are leaving office with new Representatives and staff taking their place. Educating will be an ongoing endeavor to increase awareness and maintain our access to kratom."
The group said advocates specifically talked to congressional aides about the FDA's recent use of a "misguided computational model" to classify kratom as an "opioid," as well as controversy over the agency's mandatory recall of kratom products following positive tests for salmonella. (Kratom Community Grassroots called the latter issue a "closed case with no source identified.")
They also challenged the FDA's presentation of 44 deaths that it claims were associated with kratom. As HuffPost has reported, almost all of the cases cited by the agency involved the use of many different substances ― as many as 9, according to one autopsy. One alleged kratom-associated death involved an individual who was killed by a gunshot wound to the chest. Another died by suicide.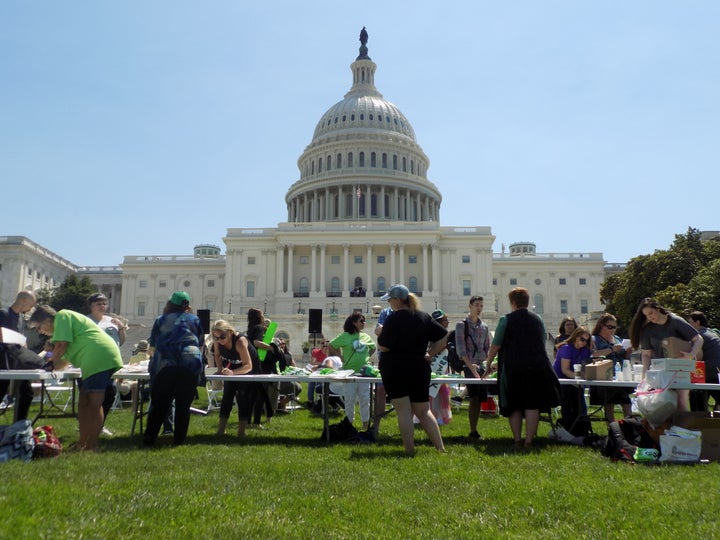 The week's events marked the latest chapter in a protracted battle over the legality of kratom. The federal government has appeared intent on imposing a ban, despite vocal opposition from advocates and other experts who say the move would heap additional misery on kratom users, many of whom suffer from serious medical conditions that they've been unable to effectively treat with more traditional medications.
Kratom products are sold in the U.S. as herbal supplements, meaning they're subject to few federal regulations. Six states have already banned kratom, using many of the same arguments the federal government is now putting forth. Industry groups estimate there are between 3 to 5 million kratom users nationwide, who commonly take it in powder form, often contained in capsules or brewed in tea. Users regularly tout kratom for its mood-enhancing qualities, as well its stimulant or sedative properties, which can vary depending on the dose and strain.
But the federal government has seized primarily on kratom's opioid-like effects, following reports of the herbal drug's growing popularity as an alternative to prescription painkillers, or a replacement therapy for more harmful opioids. Earlier this year, the FDA announced it had run a computer analysis showing that kratom was an "opioid," and that the agency could therefore "predict its biological function in the body."
In fact, while kratom's active ingredients ― mitragynine and 7-hydroxymitragynine ― do appear to activate opioid receptors, initial studies have found that they do so without triggering the sort of severe respiratory depression associated with fatal opioid overdoses. Scientists and doctors have called for further research into kratom's potential benefits and risks amid the broader search for safer painkillers
But the FDA renewed talks of a kratom ban last year when it issued a public health advisory outlining concerns about the botanical drug's "deadly risks" and potential for abuse and addiction. Because kratom hasn't officially been approved for any medical purpose, the FDA has expressed concerns that people are using kratom to self-medicate for pain or opioid withdrawal symptoms, sometimes at the urging of vendors who have made misleading claims about the herb's efficacy.
Amid this public campaign, the FDA has officially recommended that the DEA proceed with scheduling, legislative aides told kratom advocates last week. The DEA has hinted that a decision could come as early as this summer, but an agency spokesperson declined to provide HuffPost with a more concrete timeline.
At the kick-off rally last Tuesday, kratom supporters from across the country explained what they'd stand to lose if the DEA pushes forward with the ban. Many recounted struggles with chronic pain, which they'd spent years trying to treat with prescription painkillers. Some said they spiraled into opioid addiction as a result. Others saw a diminished quality of life, as powerful narcotics plunged them into a fog that made day-to-day activities difficult.
For many users, kratom had worked in ways that more conventional drugs hadn't. And that wasn't only the case for chronic pain sufferers.
Sage Beam, a Virginia-based peer support specialist, said she'd discovered kratom 18 months ago. She now considers it to be one of the many tools she can use to feel better and combat the depression and anxiety that once led her to attempt suicide, she said.
"I like my life now," Beam said during a speech. "I like my friends. I like my family. And I don't just like my life, I want my life."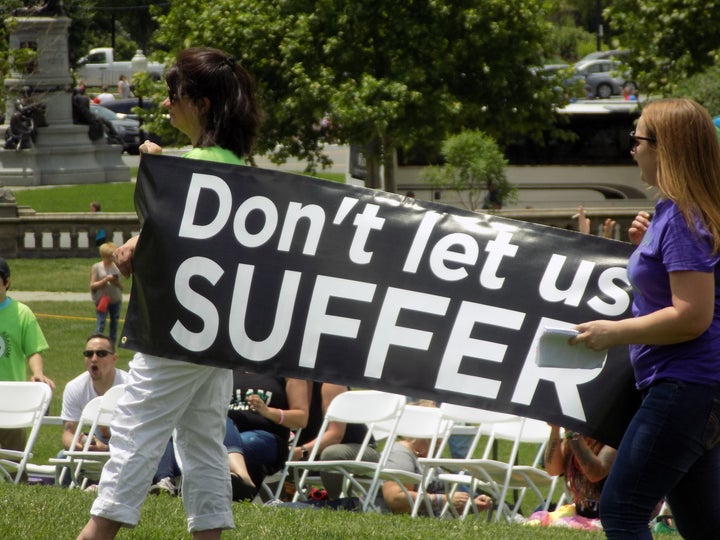 After the rally, kratom advocates headed into the Capitol to meet with legislative aides. By the end of the week, they met with staff from 26 House and Senate offices, according to Kratom Community Grassroots.
The feedback was mixed, said Melanie Victor, a volunteer who made the trip from Tennessee. Most of the aides were receptive to the concerns of kratom advocates, but in the end, unwilling or unable to offer assurances. A few gave a bleaker outlook, saying that if the FDA supported a ban, the DEA would most likely follow suit.
"They were pretty much letting us know that this isn't looking too great," Victor told HuffPost. "This is probably going to be a pretty big fight."
The stakes are high for Victor, who was introduced to kratom after having an unpleasant experience with the opioids she'd been prescribed following a string of surgeries to treat a near-fatal liver disease, which she says was caused by another medication. Victor said she continues to take kratom, but not every day.
For other kratom users who are grappling with severe chronic pain and issues of opioid addiction, the consequences of a ban could be worse, said Victor. If the government takes away their preferred method of treatment, she predicts many will end up being forced to go back to the drugs that caused them problems in the past.
That thought only drives Victor to work harder to keep kratom legal.
"Right now I think is crunch time," she said. "This is when we have to push."